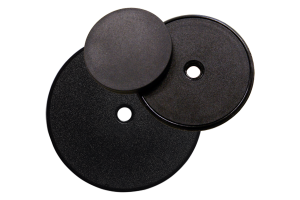 The Epoxy Disctags from iDTRONIC Professional RFID are well suited for the identification of goods and objects in an industrial environment. Typical application areas are in logistics, warehouses or productions. The round shape and the ultra-thin thickness of 1.6 mm fits for reusable transport containers or industrial goods such as in container tracking. The housing is made of epoxy and is coloured black. It is available in three different dimensions: ø 20, 30 or 50 mm. The 50 mm version can delivered with a centre hole on request. Thanks to the IP66 protection class it features special resistance in rough applications and are stable against many different chemicals. Their water absorbing is low (depending on temperature). It withstands temperature environments of -25 °C up to +90 °C. The Epoxy Disctags are available in the two different RFID frequencies: HF (13.56 MHz) and LF (125 kHz).
Beskrivelse
· Black Epoxy Material
· HF or LF Frequency
· ø 20, 30 or 50 mm
· 1.6 mm Thickness
· IP66 Protection
Kontakt os
Hos Sensor Media er vi specialister.
Er du i tvivl om noget i forbindelse med et projekt?
Kontakt os, hvis du har brug for hjælp til at dit projekt lykkes.
Vi er kun et opkald væk.
Ring til os, og lad os sammen finde den optimale løsning - eller send en besked, så kontakter vi dig.

+45 43 75 44 80
Send besked
Udfyld nedenstående formular såfremt du ønsker at blive kontaktet af en af vores specialister

Lignende produkter findes også til ECS og Medical