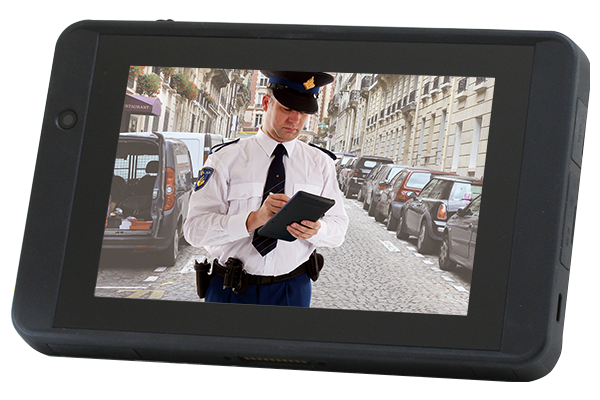 7" Flexible rugged tablet
The RTC-700 series is one of the most versatile rugged tablets in the market today. You are free to select between no top module, a module with physical COM and Ethernet port and a module with 1D/2D barcode scanner. You can even complete these modules with an extra base module with magnetic strip and/or smart card reader. So no matter if you want to use it as a Mobile HMI, eTicket validator, stock taking device or rugged POS system, the RTC-700 will do the work for you.
The RTC-700 series comes in 2 models: one (RTC-700B) with Windows 10 IoT Enterprise and one (RTC-700RK) with Android 6.0. This gives you the freedom to create and apply applications to your needs.
Connectivity
Data transfer and positioning is crucial for your day in the field. The RTC-700 is equipped with WiFi, BlueTooth, GPS/GLONASS and 3G/LTE to ensure accurate positioning and fast data response whether in a car, bus, truck or even harvester. The docking station or optional onboard module will even provide extra (back-up) connectivity through physical Ethernet or COM-port.
Beskrivelse
7" WXGA (1280 x 800) TFT LCD Display, 400 nits, Sunligt Readable (Optional)
Intel® Atom™ x5-Z8350 CHT-T3 Quad Core 1.92 GHz Processor
DDR3L - RS 1600 2GB/4GB (Optional)
Projected Capacitive Multi-Touch Panel, Gorilla Glass
Extended Battery Swappable, MIL-STD 810G, IP65 Compliant
GPS/GLONASS Simultaneously
WiFi b/g/n, BT4.0
Supports NFC/RFID, Ethernet + COM Port (Optional)
1D/2D Barcode Scanner with Trigger Button
MSR (Optional)/ SCR (Optional)
G-Sensor, Light Sensor, E-Compass
Windows® 10, Android ™ 5.1/6.0
Kontakt os
Hos Sensor Media er vi specialister.
Er du i tvivl om noget i forbindelse med et projekt?
Kontakt os, hvis du har brug for hjælp til at dit projekt lykkes.
Vi er kun et opkald væk.
Ring til os, og lad os sammen finde den optimale løsning - eller send en besked, så kontakter vi dig.

+45 43 75 44 80
Send besked
Udfyld nedenstående formular såfremt du ønsker at blive kontaktet af en af vores specialister

Lignende produkter findes også til ECS og Medical